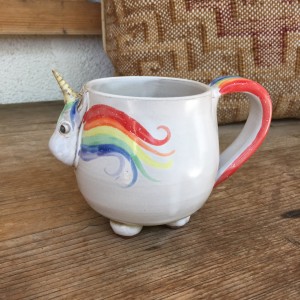 Hello, Book Clubs – and welcome to my new website.
It would be my pleasure to visit your next meeting, either in person or via phone or Skype. Just click on the little envelope above to send me an email with "Book Club" in the subject line, and let me know the date and time you're requesting.
And since my mother taught me never to arrive (either in person or virtually) without a hostess gift, you can count on my providing a giveaway package to be won by a book club member.
Now listen, I don't want to make a big deal about this or anything, but I kind of pride myself on my freaky giveaway packages. I mean, sure, you'll find all the usual book-ly stuff in there like signed paperbacks and PRESCHOOLED promo items. And a swanky candle. And chocolate.
But what about ceramic unicorn mugs and cat jeggings and Star Trek bottle openers and ironic headwear and zucchini jerky*? And more chocolate?
Yes, yes, yes, yes, and maybe. And hell, yes.
In other words, it's a giveaway package full of the usual stuff…plus some of my favorite stuff…which will hopefully become some of your favorite stuff. Not to mention that a giveaway of this caliber will no doubt take your book club to regionals, if not all the way to the state championships.
Anyway, you get the picture. Email me! See you soon!

* Full disclosure: I'm not sure zucchini jerky exists, but I think we can all agree that it totally should.